Bagpipes, A St. Paddy's Parade & Celebrity Beer Bong Highlight March 17 Events
Las Vegas goes green for the O'Sheas BLOQ Party at The LINQ Promenade.
With St. Patrick's Day being on a Saturday in 2018, you KNOW there's a party in Las Vegas.
Here's what's happening at the The LINQ Promenade – the annual O'Sheas BLOQ Party, a free celebration in the heart of Las Vegas.
The block party, centered around the iconic Irish-themed casino and pub, O'Sheas Casino, is a traditional St. Patrick's Day celebration with a Vegas-style twist. Activities include a parade,  Irish-inspired food and drink specials and live entertainment throughout The LINQ Promenade. And bars with plenty of flowing beers from the bars.
Events begin at 9 a.m. with a Bagpiper Breakfast, when a bagpiper band will roam the Promenade entertaining early-bird partiers with stops at O'Shea's, Off The Strip Bistro & Bar, Chayo Mexican Kitchen + Tequila Bar, Tilted Kit Pub & Eatery, Flour & Barley – Brick Oven Pizza, Virgil's Real BBQ and Canter's Deli.
At noon, a parade led by a green, brand-new Bugatti from Royalty Exotic will march through the open-air entertainment district. An Irish b-boy dance troupe will join the parade this year, along with bagpipers (who will bring out the LED for the parade for the evening performances), leprechauns, stilt walkers and Irish dancers.
Live performances will continue throughout the day at the BLOQ Party along The LINQ Promenade, which concludes at 10 p.m.
Additional entertainment on the Promenade will include celebrity beer pong and large-screen TVs broadcasting the college basketball championships. Meanwhile, O'Sheas will host a lineup of live entertainment including Roxy Gunn, Silversage, Darby O'Gill and DJs, as well as drink specials, inside the pub, ensuring a rollicking good time for all until 3 a.m.
An abundance of spirits will be available all day including green beer (of course!), Irish-themed cocktails and pop-up beer trucks to ensure the flowing of celebratory suds. Food specials will be available at participating restaurants including Irish favorites such as corned beef, shepherd's pie and a St. Paddy's-themed pizza.
No LINQ Promenade party would be complete without the illumination of the High Roller, the world's tallest observation wheel, which will be lit in green beginning at sunset.
Exclusive St. Paddy's Day offerings at The LINQ Promenade are: 
Amorino – An outdoor stand featuring crêpes in varying sweet flavors for $3.
Flour & Barley – Brick Oven Pizza – The Luck of the Irish Pie (pesto cream sauce, corned beef, Brussels sprouts, sausage and potato).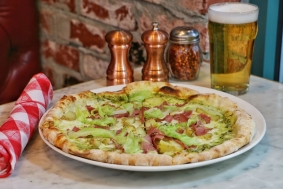 Luck of the Irish Pie from Flour & Barley – Brick Oven Pizza
Off The Strip Bistro & Bar – St. Patrick's Day Reuben Balls (Swiss cheese, corned beef, sauerkraut, minced and breaded with Thousand Island dipping sauce), corned beef and cabbage (served with stout sauce), green beer, emerald martinis and Irish car bombs.
O'Sheas Casino – Drink specials including: Jameson, Fireball and Patrón shots for $8 per shot; 16-ounce draft Coors Light, Miller Lite, Blue Moon and Guinness for $6; 24-ounce draft Guinness for $8; Irish Car Bombs for $10; Absolut and Red Bull for $13.
Sprinkles Cupcakes – Irish Coffee Cupcakes (Belgian dark chocolate and coffee cake loaded with Jameson's Irish whiskey, topped with a decadent Bailey's cream cheese frosting).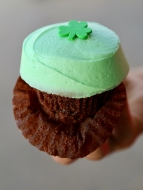 Sprinkles' St. Paddy's Day Cupcakes
Tilted Kilt Pub & Eatery – Doors open early at 7 a.m. with drink specials featuring Kilt Lifter Scottish Ale for $8; Guinness for $10; Green beer for $8 and Jameson shots for $9. Live entertainment starting at 4 p.m. will include DJs, stilt walkers, leprechauns and Irish dancers.
Yard House – Corned beef brisket, shepherd's pie, grilled corned beef sandwiches, Dublin mules, Celtic mojitos and Irish whiskey and beer flights.